This month in RECORDING, we shift our focus from the gear and techniques for capturing your musical muse and turn our attention to where it all comes together – the mix! Crafting the perfect mix requires the correct combination of skills and tools. When combined with taste and creativity, mixing becomes sonic art!
Reviews
In this issue, we focus on the tools for a great mix. For your hands, we have the new SiX mixing desk from Solid State Logic. For your ears, we listen to the Ones series 8351B from Genelec. To make sure your speakers sound their best, we check out the IsoAcoustics ISO-Puck 76 vibration isolators. And for your head, we have the Anniversary Edition HD25 headphones from Sennheiser.
To take control, we step up to the 49SL MKIII from Novation and the Keylab Essential 88 controller from Arturia.
To get sounds to and from your DAW, we test out the Quantum 2626 from PreSonus and the new Mercury DAC from SPL. Finally, we have the just-released Comp II from Daking and the RV-1D Real Spring Reverb from Demeter Amplification on the hardware side.
In the software department, learn what's new in the latest 10.5 update of Logic Pro X and version 6 of Harrison Mix Bus. Get your grooves slamming with the UVI Drum Replacer and the KH-Comp 1 plugin from Black Rooster Audio, and lastly, meet the new Producer Bundle from NUGEN.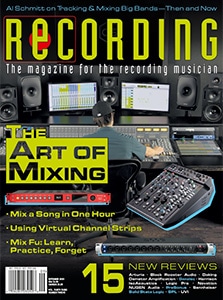 Interviews
Our first interview this month is with legendary audio engineer Al Schmitt who imparts his wisdom on tracking, mixing and even drum sampling. [GET IT HERE] Then we meet reissue producer and audio engineer Jeff Larson who takes us behind the scenes of the new eight-disc Half Century box set from the band America. [GET IT HERE] We also chat with guitarist and songwriter Gerry Beckley, who set up his first home studio in 1972, just after the band's first album was released. [GET IT HERE]
Features
In this month's Inside The Box column, author Joe Albano focuses on the sounds and advantages of using channel strips and classic console emulations. [GET IT HERE]
Mark Hornsby challenges us to do a 60-minute mix in his Inside The Studio column. [GET IT HERE]
Engineer Marty Peters is back with Readers' Tracks, and in this month's Fade Out, Aaron J. Trumm digs into Mixing Fu: Train, Learn, Practice – Then forget it all and just mix!
Realize your proper balance with the September mixing issue of RECORDING!