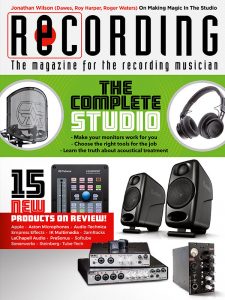 OVERVIEW
In the November issue of RECORDING, we explore what we call The Complete Studio—a recording rig that goes beyond the basic tools and has everything you need to create professional-sounding work on any budget. Covering everything from useful accessories to room acoustics, there's something for everyone!
FEATURES
Jonathan Wilson is renowned as a recording artist, songwriter, producer, and sideman (he's currently on tour with Roger Waters), and has worked with members of The Black Crowes, The Grateful Dead, Wilco, Tom Petty and the Heartbreakers, Crosby, Stills, and Nash, Jackson Brown and Robbie Robertson, to name a few. His production style is unique and full of great tricks that pull all the diverse elements of his studio together into a unique sound—and you can learn about how to use them yourself in this month's exclusive interview with Jonathan. [READ HERE]
Bruce Black, the Man Of Acoustics, has been one of our go-to authors on room treatment for many years. In this issue, Bruce discusses a topic that's one of his favorites: teaching home and project studio owners about the Four Tools Of Acoustical Treatment—absorption, diffusion, barrier, and vibration isolation. Part 1 of this series is a fascinating read, and we can't wait to share it with you. [READ HERE]
Also in this issue: Aaron Trumm returns to our pages with a worthwhile tutorial on audio file types—what's useful where, and which sorts of files you'd be better off avoiding. [READ HERE]
REVIEWS
This issue is chock full of handy products for your total studio experience. We have powerful processors from Empress Effects and LaChapell Audio, studio tools from PreSonus, Steinberg, Aston Microphones, and JamRacks, IK Multimedia's iLoud monitors, the newest studio headphones from Audio-Technica, and much more.
We also bring you an in-depth comparison of the newest Softube CL-1B compressor plug-in with the famed hardware version from Tube-Tech, a walkthrough of the Sonarworks Reference monitoring software with Grammy-winning engineer Jared Kvitka, and new contributor and popular YouTube tutor Lewin Barringer gives us a Walking Tour of the newest Apple GarageBand.
AND THERE'S MORE
All this plus Studio 101 with Darwin Grosse [READ HERE], Readers' Tracks with Marty Peters, our regular monthly features, and more. If you're looking for complete solutions for complete success, you can't afford to miss out on the November RECORDING!