2021 Holiday Buyers's Guide
Studio Gear you need to get
While technically, we are still in the throws of the pumpkin-spiced fall season, most of us are busy little elves prepping and planning for the forthcoming holiday season. Here at RECORDING, we are readying our December issue. In addition to our usual recording-focused columns and reviews, we are unwrapping…
The 2021 RECORDING Buyer's Guide
This year we are making a list and checking it twice filled with the best gear to begin your recording journey. We ask the Pro Audio industry: What is the best audio interface, microphone, headphone or set of monitor speakers in your lineup for $150 or less and why. Come find out what they recommend! [GET IT HERE]
Reviews
Our December reviews start with a great selection of audio interfaces: We have the USB PRE IV from ART, the MiniFuse 2 from Arturia and the Clarett+ 8 Pre from Focusrite. From AKG, we look at the brand new ARA USB microphone.
In the monitoring department, from The Ones series from Genelec, we listen to the 8361A, the VM-80 from Pioneer, and the Euclid in-ear monitors from Audeze and the affordable Hi-X15 and Hi-X25BT headphones from Austrian Audio.
For our in-the-box friends, we have the Black Rooster Audio OmniTec-67A and the latest Tai-Chi reverb plugin from Reverb Foundry.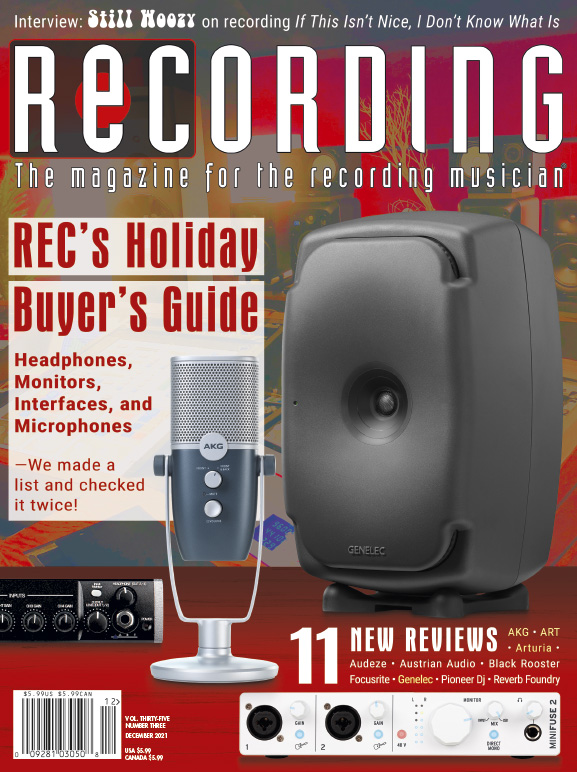 Interviews
In this issue, we sit down with Still Woozy (Sven Eric Gamsky) and noted producer and engineer Lars Stalfors (Cold War Kids, The Shins, Foster The People, The Mars Volta) to get the 'deets' on the just-released deliciously pop-twinged If This Isn't Nice, I Don't Know What Is. [GET IT HERE]
Features
In Inside-The-Box, Joe Albano considers the latest crop of free and entry-level DAWs and all they can offer. [GET IT HERE]
Producer Mark Hornsby helps bring your songs from the studio to the stage, [GET IT HERE] and we wrap up Marc Urselli's Session Log: The making of AngelHeaded Hipster, a T.REX tribute album, with a look at mastering. [GET IT HERE]
Happy Holidays and Happy Recording from RECORDING Magazine!