Dig it all! 
It could be argued that along with microphones, magnetic tape and speakers, nothing has had a more significant impact on the recording landscape than the not-so-humble computer. In all but the rarest of circumstances, somewhere in the chain, your music creations will end up "in the box". In the June issue of RECORDING, we focus on the programs and peripherals that make this possible…and fun!
Reviews
Kicking off our reviews this month, we look at what's new in DAW-Land as we check out the latest versions of Steinberg Cubase 11, Ableton Live 11 and PreSonus Studio One 5.2. Next, we "plug into" new offerings from Waves, Nugen, Accusonus, Focusrite and BOOM Library, and we tickle the ivories on a pair of virtual pianos from Spitfire and Modartt.
We look at an exotic new synth offering from Erica Synths on the hardware side, and we roll the dice with new custom synth bundles from Moog. We also page through an excellent Moog-focused patch book from Bjooks. To get us in step, we have the latest keyboard controller from Arturia, and we bring you the second part of our in-depth review of the Eventide H9000. We round out our reviews with an 'exciting' new box from Radial, purpose-designed to integrate your effects pedals with your audio interface in glorious stereo.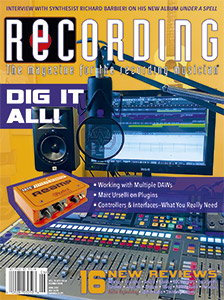 Interviews
This month's interview is with legendary synthesist Richard Barbieri (Japan, Rain Tree Crow, David Sylvian, JBK, No-Man, Porcupine Tree). Richard takes us into his studio and shares the hardware, software and processes used to create his latest album, the superb, dreamlike, textural Under A Spell. [GET IT HERE]
Features
In part six of Marc Urselli's Session Log: The making of AngelHeaded Hipster, a T.REX tribute album featuring U2, Elton John, Nick Cave, Joan Jett and many many others, Marc discusses the plugins used in the creation and mixing of the album. [GET IT HERE]
In his Inside The Studio column, producer Mark Hornsby talks about digital vs. analog summing. He compares an 80 Series Neve console with the Neve summing inside Luna from Universal Audio, complete with downloadable audio examples. [GET IT HERE]
Joe Albano steers us through navigating multiple DAWs in his Inside the Box column. Engineer Marty Peters has a new section of Readers' Tracks. Finally, Aaron J. Trumm asks us to consider your DAW/interface/controller combo needs. [GET IT HERE]
RECORDING Magazine – diggin' digital audio 34 years and counting!