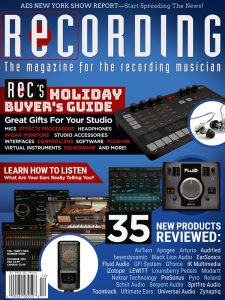 OVERVIEW
December's RECORDING will feature our Holiday Buyer's Guide, packed to the brim with cool products for that special recording musician on your list… even if it's you. Remember that these aren't press releases, they're real reviews—so you know that every product we feature has been tested and approved by the Editors.
FEATURES
Music begins and ends with listening, and in this issue famed producer/engineer Bruce Kaphan teaches us about a fascinating subject: how to listen critically, so that your mixes are their very best, in a way that everyone can hear. [ READ HERE ]
Dolby Atmos is appearing everywhere in the world of new media: it's not just for big-budget movies any more! New writer Alfredo Pasquel works at Oscar-winning soundtrack artist Hans Zimmer's studio, and brings us a really cool hands-on article on effectively creating Dolby Atmos content at home, using the tools you have and free software.  [ READ HERE ]
REVIEWS
As usual for a Buyer's Guide, the December issue is overflowing with cool reviews of all kinds of recording products, from free to "treat yourself once a year." You can look forward to learning about hardware products from AirTurn, Apogee, beyerdynamic, Black Lion Audio, Fluid Audio, GFI System, IK Multimedia, LEWITT, Lounsberry Pedals, Nektar Technology, Roland, Schiit Audio, and Serpent; headphones and in-ear monitors from EarSonics, PreSonus, and Ultimate Ears; plug-ins from Arturia, Audified, iZotope, Universal Audio, and Zynaptiq; virtual instruments from GForce Software, Modartt, Pyro, Spitfire Audio, and Toontrack; and more!
AND THERE'S MORE
All this in addition to our coverage of the 2018 AES Convention in New York, Studio 101 with Darwin Grosse [ READ HERE ] , Readers' Tracks with Marty Peters, our regular monthly features, and more. Whether you're planning your gift list, looking to treat yourself, or just interested in the newest tech and choicest tips around, you'll want to pick up the December RECORDING!