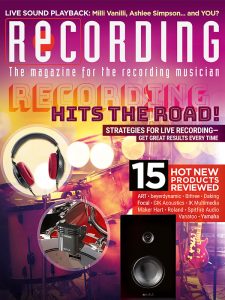 OVERVIEW
It's August, and with the coming of hot and sunny days full of summer festivals, it's time for RECORDING to hit the road with a focus on live and field recording. This month, we bring you great advice and fascinating new tools to improve your chops when capturing music on stage.
FEATURES
Bill Stunt has spent a decades-long career working for the Canadian Broadcasting Corporation, out in the field recording everything from live concerts and news programs to the Sydney Olympics. He's made a career of pulling off great live recordings under difficult conditions, and he knows how to deliver the goods even without a national-network budget. In this issue, Bill lines up his most useful tips and tricks for bringing home a great live set. [READ MORE]
Scott Dorsey has a knack for taking recording situations that most of us never think about, and turning them into fantastic learning experiences. This month, Scott breaks down the principles behind recording an orchestra—you might be surprised to learn that it takes a lot less equipment than recording your average rock band, and the strategies for getting the best recorded sound can be applied everywhere. [READ MORE]
Also this month: Samantha Blanchard taps into her experiences working with live engineer Devine Evans and her time touring with Nicki Minaj to demystify how the big stars use DAWs on stage… and how, and why, you should consider this for your own band. [READ MORE]
REVIEWS
This issue features a large slate of gear reviews, including the unique Yamaha EAD10 live drum recording system, the Roland Rubix24 audio interface, 500 Series modules by Kludge Audio, the fantastic new Clear Professional headphones from Focal, ART's RM5 monitors, the Daking Mic Pre II preamp, acoustic treatment from GIK Acoustics, and much more.
AND THERE'S MORE
All this plus Studio 101 with Darwin Grosse [READ MORE], Readers' Tracks with Marty Peters, our regular monthly columns, and more. If you expect to be at Front Of House or at the side of the stage with the task of capturing what's making the audience cheer, you can't afford to miss the August RECORDING!