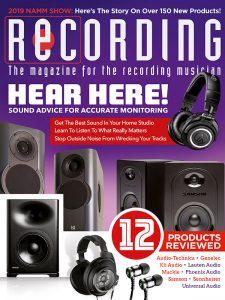 OVERVIEW
March is Acoustics and Monitoring Month at RECORDING! In this issue, we examine the best methods and tools for hearing your music accurately—from speakers and headphones to recording spaces and treatments.
FEATURES
James Lindenschmidt has been in the business of helping clients turn ordinary rooms into great listening spaces for many years. In this issue, he begins a series of articles in which he tackles a project that's near and dear to his heart: turning a less-than-ideal room in his own home into a usable and musical recording and mixing space. James will cover all the bases from planning to first use… and readers will be fascinated to learn about the start of the process and how his priorities were set. [READ HERE]
Bruce Black continues his discussion of the Four Tools of Acoustics with a deep dive into the concept of barrier: isolating recording spaces from outside sounds. This deep and fascinating topic is covered with everything from basic concepts of sound transmission to practical advice on room construction and modification. [READ HERE]
Bruce Kaphan has been teaching us about the process of critical listening, and how a reliable monitoring experience is a sum of many small parts. This month, Bruce wraps up with a discussion of monitors, the value (and danger) of "check speakers," and how critical listening relates to the mixing process. [READ HERE]
REVIEWS
There's lots of cool gear to listen to in this issue. Monitor reviews range from the affordable and portable Samson MediaOne M50 to the enormous, powerful Genelec S360A and the astounding Kii THREE—both of which have been profiled onsite in listening rooms provided by Genelec and by Kii distributor Grace Design. We also feature the stunning Sennheiser HD 820 headphones, the entry-level MC-150 headphones and CR-Buds/CR-Buds+ from Mackie, and the handy ATH-M50xBT from Audio-Technica.
Other reviews include Lauten's new LS-208 microphone, the Phoenix Audio DRS-8 Mk2 rack preamp, and an in-depth look at Universal Audio's software emulation of the legendary Lexicon 480L.
AND THERE'S MORE
All this plus full coverage of the 2019 Winter NAMM Show, Studio 101 with Darwin Grosse [READ HERE], Readers' Tracks with Marty Peters, our regular monthly features, and more. If you want to make sure you're hearing what you should be hearing while you track and mix, you can't afford to miss the March RECORDING!