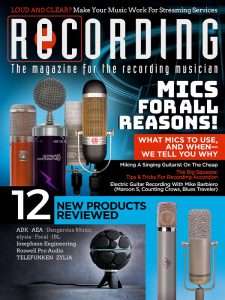 OVERVIEW
Mics for all seasons, mics for all reasons—in the October issue of RECORDING, we're diving into the modern mic locker for the latest tech and the greatest tips, all to help you make better recordings.
FEATURES
Making the most of your mic locker doesn't always involve just buying new mics. The best results come from doing the best possible jobs with the mics you already have handy. In this issue, we bring you hands-on advice on recording applications from the very common to the more unusual.
James Lindenschmidt breaks down the tricky process of recording a guitarist who loves to sing and play at the same time, in an illustrated how-to guide for engineers at any level. [READ HERE]
Bill Stunt takes the accordion—an instrument that remains popular in a wide variety of Latin genres as well as Americana and zydeco—and examines its complex, always-moving sound and how best to capture it. And Mike Barbiero talks about how affordable mics, careful technique, and the right outboard gear came together to make the legendary guitar sound of Warren Haynes and Dave Navarro. [READ HERE]
In this issue, we wrap up a fascinating report on the recent AES International Conference on Audio Archiving in Washington, DC. [READ HERE]
Last but not least, engineer and educator Eric Ferguson explains the vital topic of loudness, and how it's completely changed the way we mix and master audio for modern consumption. [READ HERE]
REVIEWS
This issue is full to bursting with new gear, much of it reviewed for the first time in our pages. We bring you mics suitable for everything from the small studio to the top-flight recording room, from makers like Josephson, Telefunken, ADK, Roswell Pro Audio, and AEA—with a head-to-head comparison between the modern R84A and the classic R44A ribbons. We also look at Zylia's remarkable ZM-1, a spherical mic array for surround and VR recording that's portable and easy to use.
Also in this issue: hot new reviews of the skulpter 500 preamp from elysia and fantastic new converters from Dangerous Music, and going ears-on with new monitors from JBL and headphones from Focal.
AND THERE'S MORE
All this plus Studio 101 with Darwin Grosse [READ HERE], Readers' Tapes with Marty Peters, our regular monthly columns, and more. Don't let your mic collection go to waste—take it to the max with the October RECORDING!