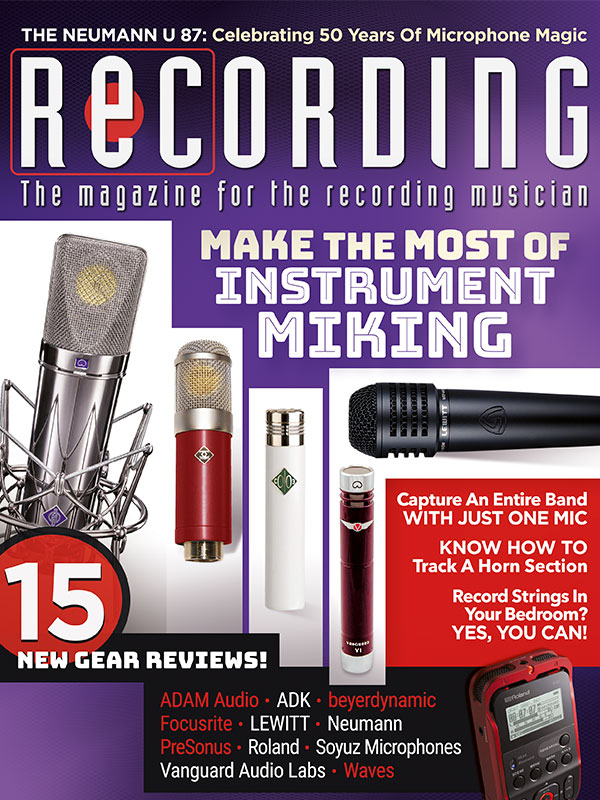 OVERVIEW
In our May issue, we look at a topic that always intrigues our readers—getting the best sound when miking instruments. We'll be bringing you expert technical advice on setting up your mics, and telling you about the latest and greatest gear to speed the process along.
FEATURES
It's fun and exciting to mic real brass and wind instruments; even the very best sample library can't equal the energy of a real brass section cutting loose. Bill Stunt walks us through best practices for capturing these instruments, solo and in sections. [READ NOW]
Miking strings can be tricky if you've never done it before, but there are some very cool mics out there from companies like DPA Microphones that remove the guesswork and guarantee good results every time. Paul Vnuk presents a practical and approachable look at the mics and the techniques that go with them, on both violin and cello. [READ NOW]
We all know that our mixers, preamps, and audio interfaces have a little button (in hardware or software) with the Ø symbol—a control that inverts the polarity of a signal, or in studio-ese, "flips the phase." Why would we need this button, and when do we use it? Paul Stamler goes over the details of this small but mighty miking tool. [READ NOW]
Mike Rivers returns with the latest Trust But Verify, a discussion of voltage specs and tests… including a serious look at Sylvia Massy's not-so-serious trick of passing signal through a potato for a cool tone. Fact or fiction? Find out! [READ NOW]
REVIEWS
This issue features great new instrument mics and lots more. Check out the new Vanguard Audio Labs V1+LOLLI and Soyuz Microphones SU-013 pencil condenser mics, the little-known but fantastic LEWITT MTP 440 DM, beyerdynamic's newest ribbon mic the TG V90, and a special roundup of ADK's many interpretations of the classic C 12 design from entry-level elegance to top-of-the-line tube powerhouses.
We also feature the Roland R-07 portable recorder, Focusrite's sweet new Clarett USB interface line, the lightning-fast PreSonus Quantum, Waves' Scheps Omni channel strip plug-in, and more.
AND THERE'S MORE
All this plus Studio 101 with Darwin Grosse [READ NOW], Readers' Tracks with Marty Peters, our regular monthly features, and more. If you love the simple joy of putting mics in front of musical instruments and capturing their beauty, then you can't miss the May RECORDING!