Sam Smith's FOH engineer, Jim Ebdon, praises Austrian Audio's OC818 microphones in use on the English singer-songwriter's tour, citing them to be 'one step ahead'
Vienna, Austria (March 26, 2020) – Austrian Audio OC818 microphones were recently put to use on British singer-songwriter, Sam Smith's tour as overheads. Smith's profile raised significantly in 2014 after debut album release, In the Lonely Hour. 2015 saw Smith awarded with four GRAMMY Awards for Best New Artist, Record of the Year, Song of the Year, and Best Pop Vocal Album.
Smith's FOH engineer, Jim Ebdon started his career in audio straight out of school whilst working at Surrey Sound Studios, where The Police recorded their first two albums. He later progressed to working as a studio engineer, then as a live sound engineer for high profile artists such as Maroon 5, Annie Lennox, Sting and Aerosmith.
"I've had a very colorful career," he says. "I started as a tape op assistant in the studio and I quickly learned mic techniques, how to cut tape, and how to operate a mixing console! That put me in good stead to become a live sound engineer a few years later, which is a whole different process and discipline compared to being a studio engineer."
Ebdon states that while he has always been a fan of what he calls "the other brand of microphone," he thinks that Austrian Audio has the upper hand: "This [OC818] is just that one step ahead," he enthuses.
Although Ebdon is familiar with Austrian Audio's free PolarPilot app, which facilitates real-time wireless control over analogue patterns, high-pass, and pad-in real time via Bluetooth, he admits that he has never had to make use of it yet:
"I've got to be honest with you – I haven't used it because the microphone sounds so good, I don't need to use it! I don't want to interfere with something that is great off the bench."
Commenting on the Sam Smith tour, Ebdon is full of praise for the OC818:
"We've been using them on the Sam Smith tour as overheads, and we have had great results. It just works; I can knock those overheads out of phase and the fatness that comes into the drum sound is incredible!"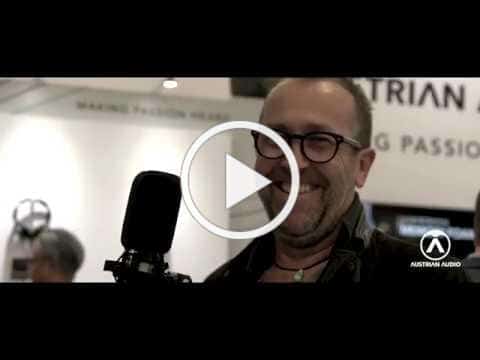 The OC818 is Austrian Audio's premier, professional, large diaphragm microphone. Its high sensitivity, low self-noise and ability to handle everything from a whisper to extreme SPLs make it the most advanced microphone for studio, broadcast and live applications. As the unique ceramic capsule design is so consistent, any OC818 can be match-paired with any other OC818, and when in cardioid mode, it can also be match-paired with any OC18, its smaller sibling.
About Austrian Audio
Austrian Audio opened its doors on July 1st 2017 following the closure of the AKG offices in Vienna and set out to create something new, challenging, and respectful to our heritage. We started with a core team of 22 former AKG personnel from management, acoustics, electronics, test and measurement, mechanical design, RF/wireless and software/firmware, bringing 350 years of cumulative engineering experience to the company. This culminated in the company's first product launches, the OC818 and OC18 large diaphragm microphones, which are receiving five-star reviews all over the world, followed by the HI-X50 and HI-X55 professional headphones launched at NAMM 2020. Austrian Audio strives to make your passion heard with the best sounding audio tools, combining the most advanced analogue design with leading-edge, technical innovations.
Through our B2B division Austrian Audio is also responsible for patents and proprietary technologies in audio, acoustics, transducers, noise-cancelling and measurement tools, and in the aviation and telecom industries. We also work with select industry leaders on feasibility studies, technology, and full product development, providing testing, qualification, screening, certification, ODM and other product development services.
For more information, please visit https://austrian.audio/