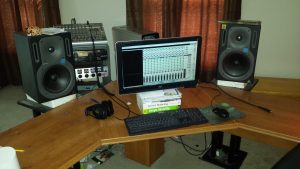 Artist Name: Thomas Lenihan  Title:Empress Of The Corn  Genre: Rock  Rating:
Equipment Used
Windows PC with M-Audio Delta 1010 interface running Propellerhead Reason. Behringer TRUTH B2031 monitors, Sennheiser HD 380 headphones.  Line 6 PODxt, Fender Stratocaster and PRS Tremonti guitars.
Production Notes & Credits
"Empress of The Corn" is a rock instrumental. Thomas was the one-man band on the project.
Reviewed By Marty Peters
Thomas has created an interesting piece here, or should we say pieces. The intro section features a moody vibe complete with tremolo bar electric guitar, piano, and clean lead guitar fills. At the 1:20 mark the song shifts to a much busier arrangement, bass and drums along with an active lead guitar enter. That section lasts for approximately 40 seconds, eventually giving way to a synth/solo piano section, which in turn gives way to a semi-metal section, followed by a solo piano section… you get the picture.
As for the individual sound sources, we found some to be more successful than others. The entire intro impressed us tonally; the twang-bar electric was great and the synth did its counterpoint job quite well. We also dug the stereo panning Tom employed here, the result being a full-bodied stereo field.
The second part of the track fared less well in our opinion. We felt that the strummed electric rhythm guitar had a plastic sound, while the drums, particularly the hard-panned brittle snare drum, were a letdown. Thomas rebounded nicely with his heavier distorted guitar tones near the song's end, but ultimately we found the fragmented nature of the recording to be distracting.
Suggestions
We applaud Thomas for his ambitious effort—no shortage of good ingredients here! That said, we suggest that he revisit his arrangement and re-examine things.
Many bands, from the Moody Blues to Yes to the Beatles, have recorded "suites." The best of these, in our opinion, combine individuality and consistency with transitions and a sonic signature that allow the listener a unified experience. We suggest that Thomas consider using crossfades to connect some of his "segments." We would also urge him to go back and re-center/EQ his snare and find a different tone setting on his Line 6 PODxt for the strummed rhythm guitar.
Lastly, we suggest that Thomas check out some of the classics for guidance and inspiration. "Close to The Edge" by Yes and side two of the Beatles' "Abbey Road" would be a fine place to start!
Summary
Plenty to work with—have fun!
Contact
Thomas Lenihan, ratbot@comcast.net