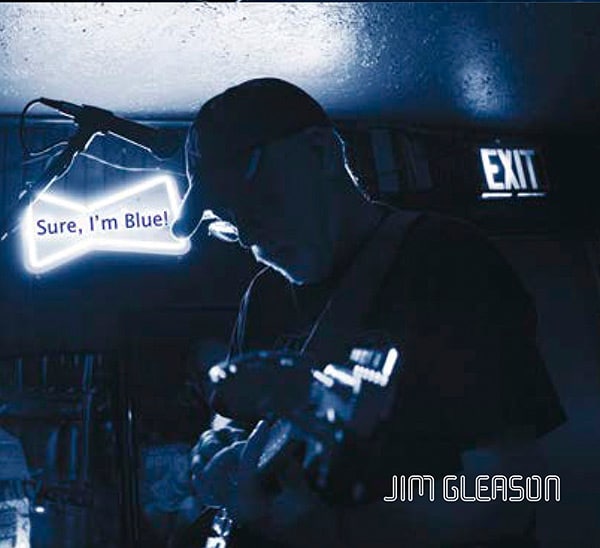 Artist Name: Jim Gleason  Title: Sure, I'm Blue    Genre: Blues  Rating:
Equipment
Computer: PC, Intel Core i7 CPU 930 @ 2.80GHz, 12GB RAM
Monitors: Event Tuned Reference 5 and Yamaha HS8S subwoofer
Headphones: audio-technica ATH-M40fs
Interface: Roland Octa-Capture
DAW: Sonar Platinum
Amp modelling and effects: Line 6 Pod Farm 2.5
Room reverb model: Cakewalk Breverb2 "Lotsa Small Room"
Mixing and Mastering plugins: iZotope Ozone and Neutron
Vocals: RCA 77dx ribbon mic
Lead guitar: Old "lawsuit" Les Paul played through the Pod Farm tweed Bassman model
Slide guitar: Line 6 Variax set to "Dobro" and modelling an Open G tuning, played through the Pod Farm Marshall plexi model
Bass: Guild Starfire copy recorded direct and EQ'd using iZotope Neutron
Keyboards: Kurzweil K2000
Drums: Addictive Drums2 triggered by a Roland TD-6v
Production Notes & Credits
The self-penned "Sure, I'm Blue!" is the title track from Jim's fourth solo album since 2012, all released on his Grilled Weasel Music label. He sings and plays all guitars and bass, with some help on drums (Dave Hamon) and piano (Kevin Holm-Hudson). It was recorded in his home studio, affectionately (and appropriately) called Claustrophonic Sound. Jim is something of a musical omnivore, and his previous songwriting and recording outings have tended to be wide-ranging affairs that span rock, Americana, country and jazz. However, all the tracks on this new album stick close to the blues, (except for the bonus track, which is pure Bakersfield twang, because he simply can't help himself).
Music
"Sure, I'm Blue!" is a male vocal blues tune. Jim wrote, recorded, sang and played the guitars and bass on the track. Dave Hamon played drums and Kevin Holm-Hudson played piano. The song was recorded and mixed at Jim's home studio "Claustrophonic Sound".
Reviewed By Marty Peters
This month's Spotlight is a tasty blues shuffle with some excellent ambience and fine performances/tones across the board. Starting with the composition, Jim has delivered the goods here. In a genre that is steeped (sometimes rigidly so) in tradition, finding some individuality while staying true to the form can be a challenge, but "Sure, I'm Blue!" hits the mark. It sounds familiar but not copycat, kudos sir! Moving on to the sound sources, the first thing that caught our ear were the drums. We love the tones and ambience Jim conjured up via his Addictive Drum/ Roland TD 6v setup. Plenty of old school "room" sound, and Dave's performance swings just right in our opinion. The bass guitar walks lock step with the kick drum here, with a deep muffled tone than suggests an upright (albeit with more punch and consistency), providing a great bed for the additional instruments. Next up are the two guitars, and they sound fantastic through our monitors. Jim's "lawsuit Les Paul", through his Line 6 Pod Farm Bassman setting is a beautiful thing. We hear an ideal amount of sting along with nicely applied compression and processing, creating as "real" of an amp sound as we've heard from software. Oh, and the cat has some chops! The second guitar is equally cool, a slide part played on a Line 6 Variax on its dobro setting. Tucked back and panned slightly in the mix, it provides a great counterpoint to the Les Paul, with plenty of energy and skill. We also dug the "bar room" piano that Kevin layed down, Sweet! Moving on, the vocals were captured via an RCA 77 Ribbon mic ( hard to get more vintage than that! ) and Jim's subtle delay processing worked well to "seat" them into the surroundings. Lastly, we were impressed by the cohesion of the mix itself. Jim obviously had a fully formed idea of the sonic ambience for his track, and he kept to it on all fronts here. It is not unusual for us to receive submissions that have multiple types of ambience going on, and while that can work under certain circumstances, for this genre similarity is the more successful road to our way of thinking.
Suggestions
Great to hear the energy that comes with skilled players sharing their talents and passion. While the majority of us are working as one person operations, it's great to have a band template to refer to when called for. Thanks to all involved here for providing us with it!
Summary
Mighty fine.
Contact
Jim Gleason, jgleason@buzzwordinc.com
Readers' Tracks