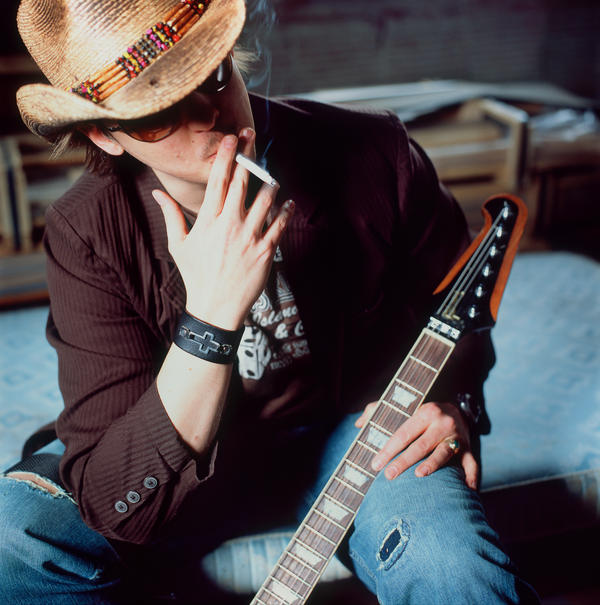 Artist Name: Clint Morrison  Title: Bow Chicka Wow Wow   Genre:  Country    Rating:
Equipment Used
Mac with Apogee Ensemble interface running Apple Logic Studio and Universal Audio UAD-2 Fairchild and LA-2A plug-ins, Sonoma Wire Works Drumcore rhythm software. Mics: Blue Blueberry (vocals), Shure SM57 (guitar amp). Universal Audio LA-610 channel strip. Nash Stratocaster with Lollar pickups through Crybaby wah and 65 Amps London. Fender bass.
Production Notes & Credits
"Bow Chicka Wow" is a male vocal Country song. Clint wore all of the hats on the project.
Reviewed By Marty Peters
This month's Spotlight is a fantastic one-man-band effort that ticks all of the boxes with the highest of marks. Throughout the years at Readers' Tracks/Spotlight, we have bandied the term "radio-ready" about when describing an extremely professional-sounding recording. To our delight, "Bow Chicka Wow" has officially joined the ranks!
In our opinion Clint has done a masterful job here, from the composition and arrangement, straight through to the performance, programming and recording/mixing. Starting from the ground up, Clint has excelled at creating a thumping drum section via his Drumcore software. This award-winning program is chock full of tones provided by some of the industry's top players, and that quality is certainly in evidence here. The no-frills bass guitar part fits hand in glove with the drums, providing a rock-solid rhythm section to build upon.
Moving on, the crunchy electric guitar tones here are a thing of beauty. The combination of Clint's Nash Strat/ 65 Amp (London) is just superb to our ears. The tone is thick and creamy with none of the brittleness that often comes with single-coil equipped guitars. No doubt the Jason Lollar pickups installed in the Nash played a part here, as does the boutique tube amplifier.
While we are tossing around superlatives, check out Clint's genre perfect vocals. The "marriage" of his voice and the Blue Blueberry mic is heavenly. As the proud owner of one of the very first Blueberry mics, we can attest to its quality, and while no mic is perfect for every voice, we must say that it certainly sounds that way here. Any distinction between Clint's vocals, both in tone and performance, from those of today's modern Country commercial recordings are indistinguishable through our monitors. Radio ready indeed!
Lastly, kudos are in order for the arrangement and mix here. The most exemplary arrangements in this genre have traditionally been built on a strong repetitive chorus, and Clint's arrangement totally delivers. His tracking and mixing skills are equally impressive; the end result is perfectly balanced to our ears, with effective use of panning counterbalanced by an extremely present presentation across all of the sound sources. Top notch!
Suggestions
We strongly urge all of you loyal readers to spend some time with Clint's outstanding track. It should serve as both a guideline and an inspiration, particularly to you one man/woman operations out there. At the risk of being "punny", very few have worn their hats as well as Mr. Morrison.
Summary
Outstanding!
Contact
Clint Morrison, clintrae@msn.com