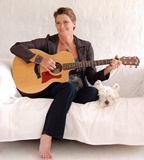 Artist Name: Joanne Cooper Title: No Matter What Genre: Folk  Rating:
Equipment
(listed as submitted by artist): HP PC (WIN 7); RealBand; Audacity; RØDE NT5; iZotope Ozone 5; Sennheiser HD 202 headphones.
Music
"No Matter What" is a folk tune; Joanne did it all in her home studio.
Reviewed By Marty Peters
Joanne has submitted a lovely heartfelt ballad here that utilizes some convincing software-generated sounds. The piano, delivered via PG Music RealBand software, has a full tone that compliments the lead vocal. We're also impressed with the sound of the RealBand strings that Joanne arranged for this track. It's incredible how far things have progressed since the bad old days of cheesy string synths! But back to the vocals for a moment—Joanne has a perfect voice for the classic female folk genre represented here. Think Joan Baez, Judy Collins, Mary Travers, and you get the picture. Surprisingly, the only mic present in her gear list is a R赤DE NT5 Compact Cardioid Condenser (a small diaphragm mic). While we have long enjoyed it on acoustic guitars, drum overheads and percussion, we've never heard it on vocals. That said, the vocals, both lead and harmony, sound great. So far, so good. Moving on, our only real issue here is more artistic than sonic. While it worked legendarily on 'Bridge Over Troubled Water', we found the inclusion of the tympani parts here to be a bit too derivative for our taste. That said though, they sound realistic if a tad dry, compared to Mr. Simon's elevator shaft reverb (Google it…).
Suggestions
A fine effort here, and it's great to see technology being embraced in such a successful way. How fortunate we all are to have so many amazing tools at our disposal as we ply our craft. As for the tympani—as the above mentioned Mr. Simon so eloquently put it, "one man's ceiling is another man's floor."
Summary
Well done.
Contact
Joanne Cooper, joanne@joannecooper.co.za
Readers' Tracks