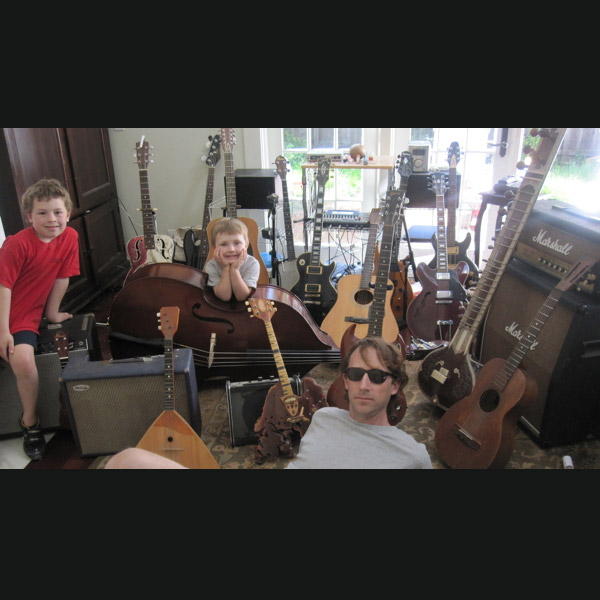 Artist Name: Mike Bender    Title: Mercedes In Hades
Genre:  Rock and Pop    Rating:
Equipment Used
HP laptop with Audiovox USB interface running Sony Acid Pro, Steinberg WaveLab, Native Instruments B3Express, Liquid Horns, and Drums On Demand drum loops. MXL 990 condenser mic (vocals, 12-string), MXL 991 condenser mic (12-string). Les Paul 1971 custom, Yamaki 12-string acoustic guitar from the 1970s, cheap J Steel bass, Line 6 POD (all guitars are recorded direct except for the acoustic), Yamaha CP30 electric piano from the 1970s.
Production Notes & Credits
"Mercedes in Hades" is a one-man-band male vocal rock song.
Reviewed By Marty Peters
Mike has submitted a solid OMB effort here with a fun Bowie/Mott The Hoople nod. In his production notes he tells us, "I record everything on a cheap HP laptop using Sony Acid Pro and mix most everything initially on cheap headphones (I know that is a big no-no) with a relatively quick listen on a car stereo and desktop speakers." Well, Mike—we say, if it sounds good, it is good! The fact that you are using several listening sources, including your car speakers, works for us.
As for the individual sound sources, we were impressed with the drum sounds that Mike got with his Drums on Demand content. The nicely compressed snare drum was a particular standout through our monitors. Equally impressive was the lockstep bass part that Mike threw down. That "cheap bass" tone sounds just fine to us!
Moving along, the electric guitar has a punky buzzsaw quality à la Mick Ronson's "Ziggy Stardust" glory days, ideal for the genre. The keyboards were applied wisely and added a nice energy to the track. We also dug Mike's vocals here; no sign of artifacts, and the subtle use of reverb and delay gave them a wide effect in the mix without overpowering volume.
So, with all this goodness, what's not to like? Well, it circles back to the drums. While we found the tones to be generally impressive all around, the pattern seemed to stumble at times during complicated fill sections. (Bad loop choice? Samples not playing back cleanly or tempo-shifted properly in Acid Pro?) We also felt that the rhythm shift during the guitar solo was a bit awkward and distracting.
Suggestions
Once again we have a perfect example of "it's the ears, not the gear". Mike may not have all of the bells and whistles available out there, but he made excellent use of the tools at his disposal.
As for suggestions, while we would never advise any of you loyal listens to "dumb down" a part, complicated drum programming is in a word, complicated! To that end, we would encourage Mike to simplify his fills and stay with his same groove-based part throughout the track.
Summary
If it ain't broke…!
Contact
Mike Bender, mikebms@yahoo.com