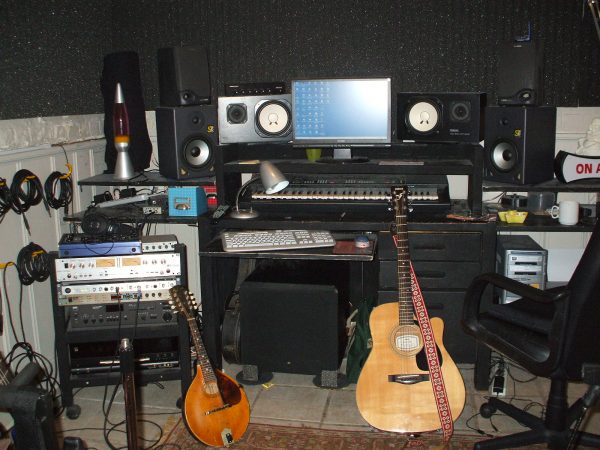 Artist Name: Mark Bolton  Title: Big News Today   Genre:  Rock and Pop   Rating:
Equipment Used
PC with Mackie Onyx 400F audio interface running Cockos REAPER. M-Audio Sputnik mic through ART MPA Gold with NOS RCA 7025 tubes and FMR Audio RNC1773 compressor (on vocals). Yamaha NS-10M monitors, Sennheiser HD600 headphones. Yamaha FGX-413SC acoustic guitar, vintage Gibson mandolin, circa 1916.
Production Notes & Credits
"Big News Today" is a male vocal acoustic rock song. Mark wrote, performed, and handled the recording chores at his home studio.
Reviewed By Marty Peters
Mark has submitted quite a successful track here, in our opinion, with creative songwriting and solid performances throughout. The instrumentation is fairly sparse by today's unlimited-track-count standards, but it is well suited for the genre, and we never find ourselves in the "sure wish there was more" mindset while listening.
The track intros with two nicely recorded and panned acoustic guitars, along with Mark's winsome and artifact-free vocals. Next up is a beautifully-recorded mandolin, panned out at approximately 9 o'clock. This simple addition to the sonic landscape proves a subtle but effective energy boost to the song's chorus section. Mark manages its comings and goings without distracting from the song's flow, something that is harder to accomplish than it may seem—especially with so few sound sources. We were also very impressed with the backing harmony vocals here; we found them to be very well recorded and ideally "seated" in the mix. Well done!
Suggestions
We feel that Mark has hit the target here. While some may argue that additional "production" would add to the success of the track, we feel that the less-is-more approach suits it just fine. As the wise man once said, what you don't play can be just as important as what you do play!
Summary
Two thumbs up!
Contact
Mark Bolton, boltonmark@sbcglobal.net