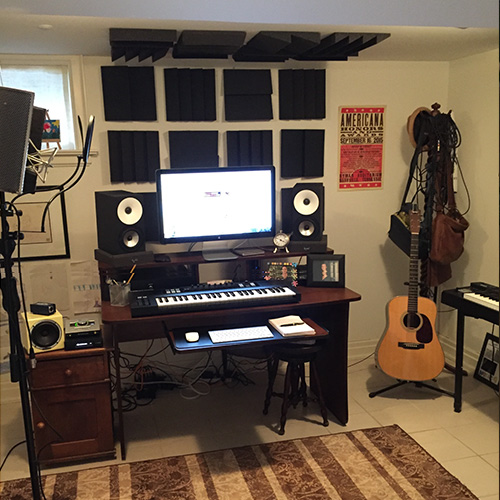 Artist Name: John Lewitt  Title: The Reason Why  Genre:  Rock    Rating:
Equipment Used
Mac Pro with Universal Audio Apollo Twin and Roland A-88 and Native Instruments Komplete S49controllers, running Toontrack EZdrummer (Indie Folk EZ Pack), Native Instruments Session Horns and Vintage Organs, Garritan CFX Concert Grand, "and a lot of plug-ins!". Mics: Neumann U87 (vocals), Neumann K184 (pair on acoustic guitars), AKG C 535 EB (Fender Super Champ XD amp). Amphion One15 monitors with Amp100 amplifier, Avantone Mix Cube, Audio-Technica ATH-M50x headphones. Martin & Norman acoustic guitars, Fender Stratocaster, Hofner bass.
Production Notes & Credits
"The Reason Why" is a male vocal Rock song. John wore all of the hats on the project.
Reviewed By Marty Peters
John has submitted a well-written Americana-style song here; fans of the late great Uncle Tupelo will recognize the sound. However, some level discrepancies and compression artifacts are holding it back.
The track intros with acoustic guitar, bass, piano, and a basic EZdrummer pattern. The balance is skewed right out of the gate, with the programmed sidestick hits dominant in the mix, followed by the acoustic guitar, with the bass and piano bringing up the rear. As the vocal enters, we hear a prominent smear on the word "without", and we hear it on other words throughout the song. In our experience, this type of artifact is almost always due to compression/limiting mismanagement. The track becomes even more unbalanced when the sidestick is replaced by a full snare drum sound that is way out front of the other instruments, exaggerated even more by the quiet bass.
Fortunately, much of this imbalance gets sorted out as John crescendos his sound sources into the chorus. The welcome addition of electric guitar, piano, organ, and harmony vocals (fine performances here) add some bulk around the drums and vocals that is much needed to our ears. Unfortunately, the late bridge section follows the template of the verse rather than the chorus, zapping energy out of the mix.
Suggestions
We wonder if John's intention here was to purposefully play down the sound sources in his verse and bridge sections in order to more effectively drive up the intensity of his chorus sections. Nothing's wrong with the concept, but forty seconds of balance issues prior to the chorus is too long to wait! We would urge John to revisit his mix while A/Bing any of his favorite Americana recordings. Listen to the relationship between the drums/bass and acoustic guitar/piano and try to achieve a similar balance.
As for the vocal artifact: historically, compression was used for gain reduction of loud or uneven sound sources. We hear no need for that much compression on John's voice. If he is using it to achieve some type of "sound", further experimentation is required. Smearing is a telltale sign of improper threshold/attack and release times.
Summary
Summary: A/B with known tracks—can't stress it enough!
Contact
John Lewitt, jmlewitt@gmail.com