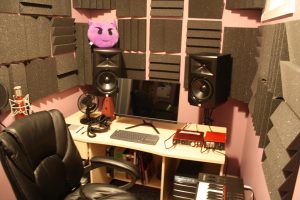 Artist Name: John Bowen Title: Twilight Side Of Morning   Genre:  Rock and Pop  Rating:
Equipment Used
Lenovo Core i5 4460 desktop PC (Windows 8) with Focusrite Scarlett 6i6 interface and Nektar LX61 keyboard MIDI controller, running Cakewalk SONAR X3 Studio, Native Instruments Session Strings and Vintage Organs, Toontrack EZkeys and EZdrummer2, Spectrasonics Trilian, and stock Cakewalk plug-ins. Avantone Pro CV-12 tube condenser microphone, JBL LSR308 8″ active monitors, Sennheiser Pro HD 280 Pro headphones.
Production Notes & Credits
"Twilight Side of Morning" is a male vocal one-man-band effort.
Reviewed By Marty Peters
John has submitted a pretty successful ballad here, although not free of issues. Starting off with a simple piano/organ and vocal intro, we noticed no particular problems with the track from a recording standpoint. As the track built to include bass and drums, we felt that John had done a good job across the board with his sound sources, particularly the EZdrummer kit. Both the tones and panning impressed us and the clear, articulate bass guitar helped to create a solid rhythm section.
So what are the issues? John tells us that despite investing in acoustic treatment for his recording space and in the well-regarded CV-12 mic, he's unhappy with his vocal sound.
Suggestions
A huge part of any recording process is the struggle to translate the sound we hear in our minds onto our recording medium. Along the way, this journey is affected by myriad components, from mics and cables to preamps, converters, and speakers. Oh, and software, plug-ins, room acoustics… you know, the works!
In John's case, we personally don't find any technical problems with his vocals—no distortion, overprocessing, or sibilant artifacts to be found. That said, John clearly has a "sound" in mind that is not happening here.
Pairing a microphone to a particular voice can be a tremendous challenge, and the sheer number of choices available can be confusing. Most of us have a favorite singer or vocal sound that moves us, and ideally that's what we would love to recreate in our own work. The problem is that like fingerprints or DNA, each of our voices is unique.
That being said, different types of mics—tube or solid-state, condenser or dynamic or ribbon—deliver identifiably characteristic sounds that can aid in the search. We suggest that John spend time with some of the fine articles we have shared here at Recording over the years. He is in possession of a fine microphone, but it may not be the ideal complement to his voice.
Summary
You're closer to a solution than you think.
Contact
John Bowen, jbowen1441@comcast.net