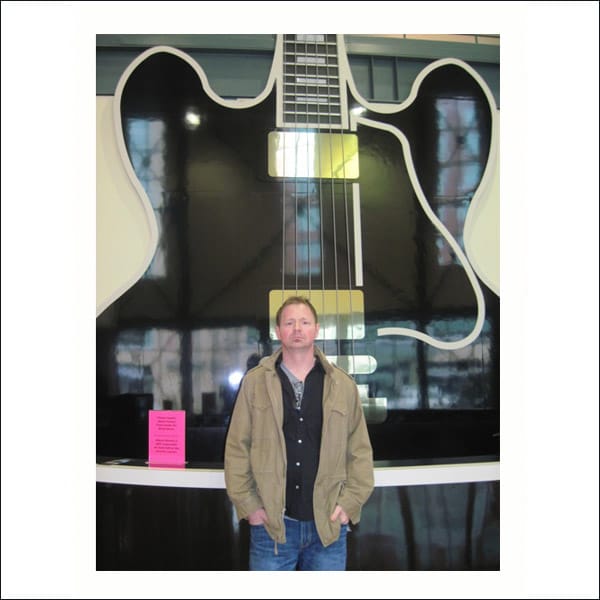 Artist Name: Jeremiah Brewer    Title: The Lights Of Love
Genre:  Rock and Pop    Rating:
Equipment Used
Sweetwater Creation Station PC with Digidesign 003R and Avid Eleven Rack running Avid ProTools 9 and plug-ins by Waves, Massey, Soundtoys, and Steven Slate Drums (playing drums by Groove Monkee). Mics: Lauten Oceanus (vocals), Shure SM81 (acoustic guitars). sE Electronics Reflexion Filter, A-Designs Pacifica mic preamp, Unit Audio Milli-Unit summing mixer. Gibson Songwriter Deluxe acoustic guitar, Wechter Nashville high-strung acoustic guitar, Gibson ES 335, Fender Telecaster, Schecter C1 Plus (with really high action for slide playing), Schecter Studio5 bass guitar, Tambourine (circa 1971).
Production Notes & Credits
"The Lights of Love" is a male vocal one-man-band song done in Jeremiah's home studio.
Reviewed By Marty Peters
An excellent solo effort here from Jeremiah that was marred, as so many quality submissions are these days, by vocal sibilance. First the good stuff, though!
Jeremiah has built a strong bed for his track with some solid drum programming and a fairly basic but effective bass part. No heroics here, friends, just a straightforward rhythm section to support the myriad guitars and vocals. Speaking of the guitars, the acoustic and electrics here are all well recorded, with an overall clarity that impressed us. Sadly, all of this instrumental goodness takes a backseat to the aforementioned sibilance artifact, spoiling the fine performance that Jeremiah tracked.
Suggestions
Jeremiah is fortunate to have some very good gear at his disposal, but we want to particularly point out his Lauten Oceanus mic. This piece of kit (as our British friends would say) is a bigtime microphone, one that any of us would be proud to own. How the vocal sibilance occurred is anyone's guess, but it's there, plain as day.
What is beginning to concern us here at Readers' Tracks is that many of our faithful readers either (a) cannot identify the problem or (b) they hear it and are letting it slide. We're not sure where Jeremiah falls; he's careful to mention his vintage tambourine but says nothing about his monitors, which is always a danger sign. If he's not hearing what he's doing, can we give him the benefit of the doubt?
While we understand full well the difficulties in wearing all of the hats in a one-man-band recording scenario, we also know that the person wearing the hat labeled "Producer" is responsible for quality control. Just as legions of recordists were willing to accept overcompression/limiting in order to eke out a half dB of volume during the CD Volume Wars, it seems that many will now turn a deaf ear to sibilance in order to deliver a bright vocal sound that pops in a mix. Our suggestion is a simple one: just stop! Sibilance, like overcompression/limiting, will never be acceptable here, nor in the world of legitimate commercial releases.win!
Summary
Bright is great. Too bright, not so much.
Contact
Jeremiah Brewer, jersuebrew@yahoo.com