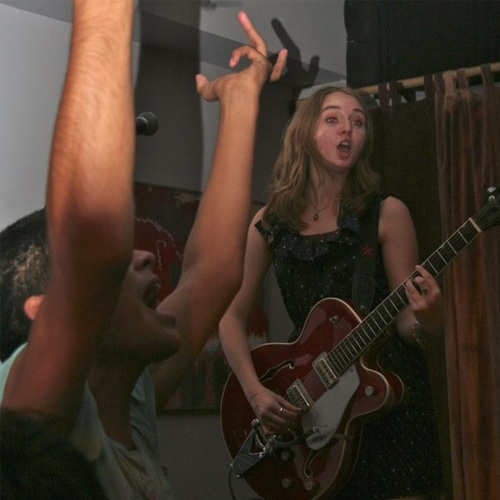 Artist Name: Alan and Alison Bews  Title: A Dark Red Sky   Genre:  Rock    Rating:
Equipment Used
iMac with Focusrite Clarett 8PreX interface running Avid Pro Tools 10, Line 6 POD Farm, and IK Multimedia AmpliTube. Hafler M5 monitors, AKG K240 headphones. Mics: Shure SM57s (snare and toms), AKG D110 (kick), RØDE (unspecified—overheads), AKG C4000 (vocal). Fender Strat and Tele guitars, Gretsch Tennessee Rose guitar, Fender Deluxe Combo amp, Music Man Stingray bass, PDP MX drums with Zildjian Custom A cymbals.
Production Notes & Credits
"A Dark Red Sky" is a female vocal rock song. Alan wrote the music and played the drums, bass and guitar. Alison wrote the lyrics and melody, played guitar and sang the vocal.
Reviewed By Marty Peters
Recorded in their garage studio, the duo have created a strong effort here. We were impressed by the sense of drama that Alan achieved with his myriad electric guitar parts. The creative panning and arrangement lends a trippy Sergio Leone vibe to the proceedings. Moving on to the rhythm section, we found the drums to be pretty well recorded, particularly the deep, fat snare. Given that they were tracked in a garage, we give Alan two thumbs up here.
Now for the flip side. Through our monitors the bass guitar was girthy to a distracting degree and seemed to be so far out in front of the kick drum in the mix that it failed to lock in as a "section". We also got the same impression from Alison's lead vocal in terms of balance. While the vocal performance and recording were quite fine, the forward nature of the vocal, combined with the lack of ambience, shoved the vocal way too far forward through our speakers.
Suggestions
Balance is one of the most crucial elements of any recording and achieving it takes time, practice and of course A/Bing. Add to that room acoustics, along with personal taste, and the task becomes that much trickier.
As for suggestions, we would urge Alan to revisit his mix and focus first on the rhythm section. Getting the kick drum and bass guitar to play nice together is job one, and trimming some low frequency bulk from the bass is a good place to start. After that we would suggest that Alan listen to his mix in good old mono and begin to "seat" his vocals back into the instruments by a few dB. Given Alison's powerful delivery and lack of processing, the vocal should still "pop" in the mix, in our opinion.
Lastly, as we preach ad infinitum, comparing your mix to commercial releases in the same genre is the most cost-effective learning tool that we know of. Just remember that when doing this, you are focusing on the rules, rather than the exceptions to them!
Summary
Summary: Strong effort, easy fixes!
Contact
Alan Bews, a_bews@yahoo.com