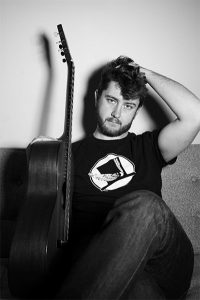 NASHVILLE, Tenn., — March 7, 2018 — Songwriter and multi-instrumentalist Mike Robinson is pleased to release his highly anticipated EP Clevidence. Produced by Joseph Valentine, the album has received critical acclaim from NYS Music, VENTS Magazine and Glide Magazine who calls Robinson, "a surprisingly polished songwriter who is able to translate his impressive musicianship and wide range of instrumental skills into timeless folk music."
The EP is a testament to Robinson's multifaceted-ness, showcasing his talent on guitar, pedal steel, mandolin, banjo, and bass while also delivering his recorded debut as a vocalist and songwriter.
To purchase a copy of Clevidence, please visit Robinson's website or Bandcamp.
Written and recorded in moments on and off the road, Clevidence exudes the on-the-go nature of its maker. An in-demand collaborator, Robinson is rarely in one place for very long; when not on the road as a former member of The Jeff Austin Band, he can be found performing throughout NYC, producing, or recording for others out of his home in Ditmas Park, Brooklyn.
The record spans as wide a breadth lyrically as it does sonically, exploring transition and growth while embracing influences from and features an all-star list of fellow Brooklynites Emma Frank, Alex Hargreaves, Dave Speranza, John Fatum, Zosha Warpeha and Libby Weitnauer.
"This project is my heart. I've never put as much of myself into any other work," says Robinson. "It has brought me both joy and sorrow, and my hope is that it can give the same to listeners."
Growing up for the first five years of his life on a sailboat in The Caribbean, Robinson is no stranger to a life in transit. His parents would dock at the various islands, exposing him to a vast array of cultural influences that have underpinned his work and provided a unique perspective that few of today's songwriters can call upon. At age six, the family migrated to Boulder, Colorado where was introduced to "mountain" music, citing Hot Rize as an early influence. Robinson began learning guitar from his father, an active local musician, and eventually joined his band for weekly performances around Boulder, adopting the lifestyle of a professional musician at an early age.  At eighteen, Robinson moved to New York City to study music and soon became ingrained in the city's vibrant acoustic music scene where he has become an in-demand multi-instrumentalist. His debut EP, Clevidence, is a bold step forward as a songwriter and frontman.
For more information on Mike Robinson, please visit: Mikerobinsonguitar.com.
Word from Recording's Editor: Be sure not to miss Mike Robinson's special article, From Empty Room To A Productive Studio, in Recording's April issue!
Industry News