Woodinville, WA-March 2019…  In 1989, the first Global Positioning System (GPS) satellite was placed in orbit; cold fusion was achieved at the University of Utah; the Berlin Wall came down; a powerful earthquake shook the San Francisco Bay Area during a World Series game. Equally earthshaking for the music industry, Mackie released its first product, the LM-1602 line mixer, soon followed by the Mackie CR-1604-and the audio industry was forever changed. For the first time, professional-quality 16-channel audio mixing was affordable for every musician. In that fateful year, the Seattle-area company was just beginning an amazing run that continues 30 years later. Today, Mackie offers a full line of affordable, high-quality audio equipment ranging from mixers to sound-reinforcement loudspeakers, studio monitors, recording interfaces, and more.
The Mackie story really began in 1969, when company co-founder Greg Mackie launched Technical Audio Products (TAPCO). Realizing that a new generation of rock bands needed an affordable, durable, high-quality mixer that could handle signals from loud instruments, Greg Mackie saw an opening in the market and decided to fill it. TAPCO's subsequent success, including its immensely popular 6000 and 6100R mixers, confirmed his vision.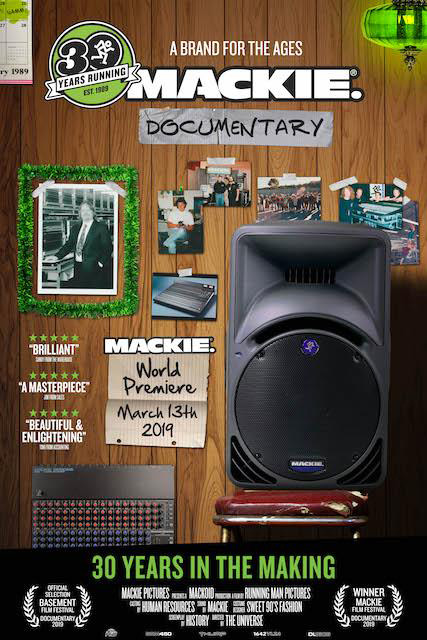 By 1989, the music industry had taken another leap. Many musicians invested in affordable polyphonic electronic keyboards, sound modules, and outboard processors and became interested in home recording. But mixers hadn't kept up; only expensive consoles offered the features and quality needed for musicians to pursue their dreams. The Mackie CR-1604 compact analog mixer and subsequent Mackie products changed all that, employing new technology and implementing only the required features, while continuing Greg Mackie's emphasis on delivering affordable, high-quality, "Built Like a Tank" gear. The result was a revolution in personal recording and live sound for bands. Many companies have tried to emulate Mackie's approach, but 30 years after it shook the industry, the Seattle-area manufacturer continues to innovate and remains a leader in quality gear that doesn't break the bank.
Throughout its 30 years, Mackie has displayed a lighthearted sense of humor, while delighting customers and dealers with top-quality, innovative, market-leading products like Mackie's DL Series digital mixers, VLZ and ProFX Series compact mixers, SRM loudspeakers and the brand-new DRM Series loudspeakers, MP Series in-ear monitors, and CR Series studio monitors. But behind the humor is a deep sense of purpose.
"Celebrating 30 years is about recognizing our customers around the world that 
have put their trust in our gear," reflects Mackie Marketing Director Shaunna Krebs. "Our customers made our success possible, and we look forward to the next 30 years of providing great gear for Mackie fans everywhere."
To enjoy a documentary video about Mackie's 30-year journey and vision for the future, visit here. For more information about Mackie and its products, visit www.mackie.com.
About Mackie 
Mackie, a LOUD Audio LLC brand, is known worldwide as a leading developer and marketer of high-quality, affordable professional audio systems. Mackie products can be found in professional and project recording studios, video and broadcast suites, post production facilities, sound reinforcement applications including churches and nightclubs, retail locations and on major musical tours. For more information visit: www.mackie.com.
Mackie is a registered trademark of LOUD Audio LLC in the United States, European Union and other countries. All other trademarks are the property of their respective owners.
About LOUD Audio, LLC
As the corporate parent for world-recognized brands Blackheart®, Crate®, Mackie®, and Tapco®, LOUD engineers, markets and distributes a wide range of professional audio and musical instrument products worldwide. Our product lines include sound reinforcement systems, analog and digital mixers, guitar and bass amplifiers, and acoustic and electric guitars. These products can be found in professional and project recording studios, video and broadcast suites, post-production facilities, sound reinforcement applications including houses of worship, stadiums, nightclubs, retail locations, and on major musical concert tours. The Company distributes its products primarily through retail dealers, mail order outlets and installed sound contractors. The Company has its primary operations in the United States with operations in the United Kingdom, Canada and China. For more information, please see our website: www.loudaudio.comhttp://www.loudaudio.com.