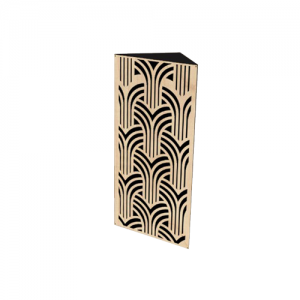 Leading acoustic treatment manufacturer GIK Acoustics is launching a corner bass trap option as part of the popular Impression Series line of room treatments.
The Impression Series turns a corner on low-frequency control. The NEW Impression Series Corner Bass Trap utilizes the size and shape of the Tri-Trap Corner Bass Trap to provide low-frequency absorption and adds the scattering effects of the Impression Series plates to effectively keep mid- and upper-frequencies in the room. The result is even, tempered bass control as well as improved high-frequency balance and ambience.
Special Introductory Offer for the month of November: Customers Save 10% on all Impression Series Corner Bass Traps.
The Impression Series Corner Bass Trap is available in:
Twelve elegant patterns: Basketweave, Braids, Palomar, Sunrise, Wavy Leaves, Bubbles, Checkerboard, Gatsby Arches, Mod Geometric, 3D Cubes, and Digiwave (horizontal & vertical)
FIVE plate finishes: Blonde wood veneer, Black veneer, White veneer, Grey Elm veneer, and Mahogany veneer
First introduced in January 2017, the Impression Series changed the face of room treatments forever. These acoustic panels and bass traps combine proven, effective absorption with beautifully decorative plates to deliver an aural and visual statement to enhance any room. The rigid plate not only gives the panel a stylish appearance but also helps reflect/scatter high frequency content in the room giving the proper balance needed.
The Impression Series panels not only perform well in critical listening environments (audio rooms or studios) but are a perfect fit for any space. Designed to enhance any setting, the Impression Series panels are ideal for professional, household, or public places where the room acoustics interfere with enjoyment or productivity.
"We understand the appearance of conventional acoustic panels may not appeal to everyone," said Glenn Kuras, President of GIK Acoustics. "That is specifically why we developed the Impression Series to make an audible and visual impact. They will absolutely transform the sound you hear and improve the look and aesthetic of a room as well."
For pricing and additional information, please visit:
North America: https://www.gikacoustics.com/product/impression-series-corner-bass-trap/