This 216-page hardcover book is now available at Bjooks.com and through resellers
OCTOBER 7, 2022 — SHEFFIELD, ENGLAND —  During this week's Synthfest, Bjooks, publisher of acclaimed music technology books PUSH TURN MOVE, PATCH & TWEAK, PEDAL CRUSH, PATCH & TWEAK with Moog and SYNTH GEMS 1, announced its PATCH & TWEAK with KORG book is now officially shipping and available at Bjooks.com and through resellers.
Originally announced as a bundle with the new KORG NTS-2 Oscilloscope, the "NTS-2 oscilloscope kit + PATCH & TWEAK with KORG" bundle is currently expected to be available in early 2023.
That said, those interested in embarking on a colorful 216-page journey through semi-modular synthesis can do so now by purchasing PATCH & TWEAK with KORG as a standalone book. 
Seen through the lens of KORG and ARP synthesizers, this new book features a multitude of patch tips, tutorials, historical explorations, and more, along with a Foreword by world-famous New Age artist (and longtime KORG fan) Kitaro, and dozens of exclusive interviews with renowned artists and producers.
Synth beginners and seasoned pros alike will find this journey through KORG history and technology, not just educational but also inspirational and full of new discoveries.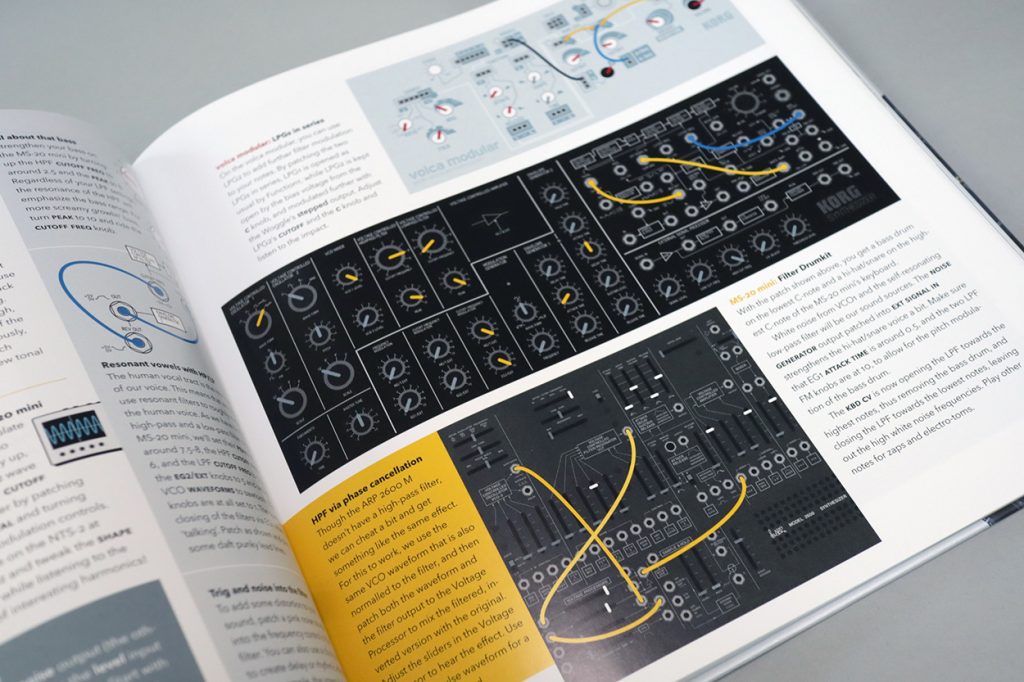 PATCH & TWEAK with KORG: A Deep Dive into Three Iconic Synthesizers
PATCH & TWEAK with KORG is the latest title in Bjooks' acclaimed PATCH & TWEAK series. This beautifully designed and printed hardcover book takes readers deep into the possibilities of three patchable synthesizers — the popular MS-20 mini, the quirky and powerful volca modular, and the legendary ARP 2600 M. Synth lovers, experienced professionals, KORG enthusiasts, and electronic music fans will all enjoy meandering through the book's pages to explore the principles of semi-modular synthesis, while discovering dozens of tips, techniques, and patches that can help them along their own musical journey.
Throughout PATCH & TWEAK with KORG, more than 25 artists and producers offer a special glimpse into their workflow by sharing their favorite tricks and patches with readers. The list includes Pete Townshend, Jean-Michel Jarre, Richard Devine, Andrew Huang, Red Means Recording, Kabuki, Kristin Hsiao, TALsounds, Robby Stambler, ALOO, Chris Lody, Olga Prudey, On High Mountains, Loopop and more.
PATCH & TWEAK with KORG will also introduce you to the creative minds of KORG's history, from MS-20 designer Fumio Mieda to volca mastermind Tatsuya Takahashi and the latest generation of KORG engineers, as well as the keepers of the ARP legacy: Dina Pearlman, David Friend, and David Mash.
A photo-packed timeline of KORG synthesizers, a look into KORG today, and a reference guide to educational resources round out this amazing book.
"Working with KORG on this book was truly a dream come true," said Kim Bjørn, CEO and founder of Bjooks. "The influence the KORG MS-20 and the ARP 2600 have had on music culture cannot be understated, and KORG has honored their importance through the lovingly recreated modern versions that form the basis for this book."
Bjooks is an environmentally responsible publisher with all its books — including PATCH & TWEAK with KORG — printed on high-quality, environmentally friendly paper from responsible sources.
For more information on the Bjooks collection of music technology titles, please visit http://www.bjooks.com.
About Bjooks:
Bjooks is the boutique publishing company founded and run by author, designer, and musician Kim Bjørn. His first book, PUSH TURN MOVE, was published in 2017. This was followed by PATCH & TWEAK in 2018, which has since been referred to as the 'Bible of Modular Synthesis'; PEDAL CRUSH – Stompbox Effects for Creative Music Making in 2019; PATCH & TWEAK with Moog in 2020; SYNTH GEMS 1 in 2021; and INSPIRE THE MUSIC in 2022. The mission of Bjooks is to create exciting titles about music technology, artists, and makers, in order to document, inspire, and explore the world of music creation.