Calling All Mixers and Producers!
Enter the contest of a lifetime and $14,000 worth of audio gear could be yours.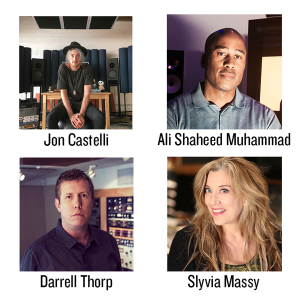 Download the stems from 1 of 6 songs and reconstruct to your heart's desire. Then our all-star team of judges—Jon Castelli, Ali Shaheed Muhammad, Darrell Thorp, and Sylvia Massy—will choose the winner, who will receive top-of-the-line audio gear from some of the most innovative brands in the industry.
Show us what you got!
For rules and clarification see here.
Submissions are due December 17th.
Check Out These Great Prize Packages!
1st Place:
Soyuz SU-019 ($2000)
AEA R44CE ($2500)
Amphion Mobile One12 ($3200)
MWTM membership ($329)
$8029 value
2nd Place:
Soyuz The Bomblet ($1200)
AEA KU5A ($1000)
MWTM membership ($329)
$2529 value
3rd Place:
Soyuz SU-013 ($600)
MWTM membership ($329)
$929 value
Click here to enter the contest!