Focusrite: Scarlett Solo & Scarlett 18i20 3rd Gen USB Audio interfaces / Hitmaker Expansion Bundle
An excellent fit for producers and songwriters, now with a stellar software bundle
Review by John Czerwinski
Focusrite holds a tenured position of prominence in the audio industry for the quality and innovation of its products aimed at professional and home studios alike. This is perfectly embodied by the ubiquitous Scarlett range. Given our focus on the singer/songwriter in this issue, we're reviewing both the ends of the 3rd Gen Focusrite Scarlett spectrum: the entry-level Scarlett Solo and the fully decked out Scarlett 18i20. We will also look at the Hitmaker Expansion software bundled with every new Scarlett interface.
Scarlett Solo
For the recording singer/songwriter, it's hard to beat the Scarlett Solo to get your ideas down quickly and easily. The lightweight bus-powered Solo sports the classic Focusrite red all-metal chassis with a clean, uncluttered front panel design.
Despite its name, the Solo offers a duo of inputs—XLR and instrument. Both are backed by clean, high-quality preamps and up to 24/192 conversion. Metering is displayed by circular LED rings which radiate green-to-red around each gain knob. The XLR channel offers a pair of switches and indicator LEDs for 48V phantom power and 'Air'. Rounding out the front panel is a large, smooth monitor level knob, headphone jack, and a switch for engaging zero-latency direct monitoring of the input signals. The back panel provides TRS connections to your studio monitors, and a USB-C connector.
Getting some Air
The (analog) Air feature mentioned above is included on current 3rd Gen Scarlett, Clarett+ and preamp-equipped Red series interfaces; the Air implementation in the products under review today is an emulation of this process. As we learned in my Clarett+ 8Pre review (December 2021), the sonic net result is similar, providing an ultra-high-end 'airy' signature to the sound. The effect is subtle to be sure, but when it's active, there is an added sense of space and sparkle to the sound.
Easy
Setup couldn't be easier, thanks to the Focusrite Easy Start tool, which guides the process of getting registered and connected to your computer (including USB-C iPad Pro). The whole process took a couple of minutes tops. [My 12-year-old did it himself with the Solo I got him for Christmas, including installing the Hitmaker Expansion Bundle…  -Ed.]
Scarlett 18i20
When the need arises for more I/O, the red-tinged 1U Scarlett 18i20 fills the bill nicely without breaking the bank. The unit includes eight inputs (two on the front panel, six on the back), all with combo XLR jacks for connecting microphones or line-level sources. If you need even more input options, the 18i20 includes ADAT ports for an additional eight inputs at rates up to 96 kHz. The preamps are solid and clear, offering an improved gain range over the 2nd Gen models (56dB up from 50dB), along with greater dynamic range and lower total distortion. All of this makes for a cleaner, quieter unit with plenty of gain.
Gain controls and a 10dB pad switch for all eight channels are found on the front panel. The Focusrite Air circuitry is again included for each microphone input indicated via yellow LEDs; activation is achieved through the Focusrite Control software. 48V phantom power is switchable in groups for channels 1-4 and 5-8.
Phones, monitors and meters
The 18i20 has two headphone jacks with enough power to deliver substantial volume for monitoring in noisy environments. Each one shares the signal routed to analog outputs 7/8 and 9/10, allowing for custom mixes. There are monitor mute and dim switches on the front panel. Another nice feature, especially in an interface at this price point, is alternate monitor switching directly from the front panel. Separate pairs of studio monitors can be attached to outputs 1/2 and 3/4, and the signal can be conveniently switched between the two using the front panel ALT switch. Additionally, outputs 1-4 include 'anti-thump' circuitry to protect your speakers—great for users like me who are forever forgetting to power down studio monitors before powering off their interface! Lastly, a talkback mic, located just below and between inputs 1 and 2, can be invoked by a momentary switch; its signal can be routed via software to any combination of outputs.
Metering is handled via an eight-segment LED bar graph set at -42, -18, -6 (each green), -3 (yellow), and 0 dBFS (red). It's nice, bright, and easily readable from across the room or in a dim environment. On the rear are ten balanced 1/4" TRS jacks for the connection of monitors and other external audio devices, as well as connectors for MIDI I/O, SPDIF, and word clock.
As with the Solo, the 18i20 is a USB 2.0 device utilizing a USB Type-C connector, a good choice from a manufacturing standpoint. The 2.0 protocol offers plenty of bandwidth, and many users most likely still connect via legacy USB 2.0 ports.
As with the Scarlett Solo, the setup, connection, and use of the 18i20 is straightforward and painless, and the addition of the ADAT port makes it nicely expandable for even more tracks.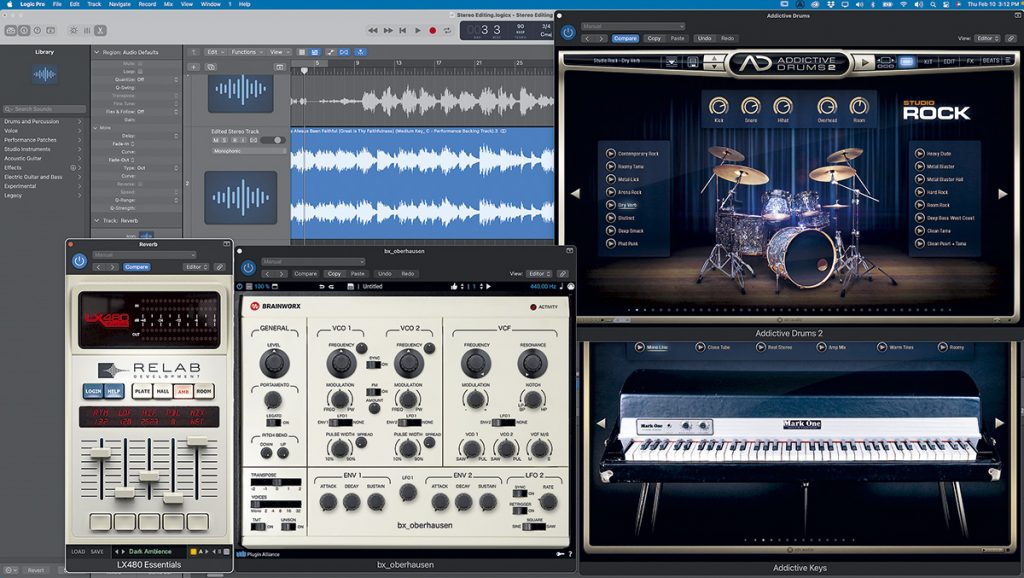 Hitmaker Expansion
When accompanied by the newly curated Hitmaker Expansion software bundle, singer / songwriters, budding producers, and content creators gain access to $1,300 worth of music production software to kick off a studio with. Need a DAW? Focusrite interfaces come with Ableton Live Lite and a three-month free trial of Avid Pro Tools.
Plugins
To bolster your in-the-box mixes, you get the exceptional Red 2 (EQ) and Red 3 (compressor) Plug-in Suite, the Brainworx bx_console Focusrite SC virtual channel strip (reviewed November 2021), the bx_masterdesk desk mastering plugin, Relab Development LX480 (Lexicon 480L-style) reverb, Softube Marshall Silver Jubilee 2555X virtual amp, Antares Auto-Tune Access, and more, including access to the Focusrite Plug-in Collective, where users can download additional plugins on a rotating monthly basis.
VST
Need some virtual instruments to fill out your sound? Focusrite has partnered with XLN Audio and is offering two great virtual instruments: Addictive Keys and Addictive Drums 2. Users can grab one of the Addictive Keys instruments of their choosing: Studio Grand, Modern Upright, Mark One (Rhodes electric piano), or the CP-80-inspired Electric Grand. The Addictive Keys interface is clean, uncluttered, and offers a myriad of choices of mic placement, sound, and effects. The Addictive Drums 2: Studio Rock Kit features professionally recorded live rhythm performances of acoustic drums, all controlled with the same clean interface and high-quality effects. In use, this virtual kit offers convincing realism. For your synth fix, there's the Oberheim-inspired Brainworx bx_oberhausen synth.
What's more, Focusrite has also partnered with Splice to provide a free three-month subscription to its industry leading royalty free sample library.
If you purchased a Scarlett 3rd Gen, Clarett+, Clarett USB, or Red interface on or after October 1st, 2021, registered users can download the Hitmaker Expansion Bundle now, free of charge.
Conclusion
The 3rd Generation Scarlett USB interfaces are great choices for recording musicians at any level, offering ease-of-use, great sound, and rock-solid performance. Now that Focusrite has bundled all of its interfaces with even more outstanding software, it's even harder to resist.
John Czerwinski (CZ to his friends) is a composer, arranger, and producer in Columbia, SC
Price: $119 Scarlett Solo; $549 Scarlett 18i20
More from: focusrite.com